Zee TV's Indian Pro Music Leagues, First every musical league in india started with excellent music competition and battle matches between each team. Now, its high time to support your favorite team by just giving them missed call on given numbers.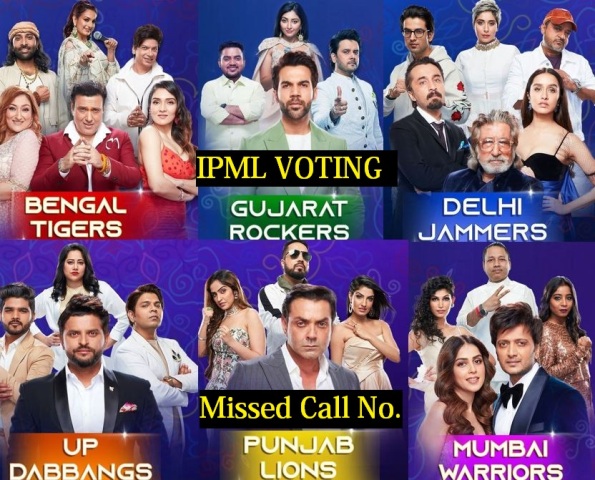 You can Support any of your favorite teams among 6 teams of IPML 2021. Bengal Tigers team comprises of singers Shaan, Akriti Kakar, and Rituraj Mohanty | Gujrat Rockers: Javed Ali, Bhoomi Trivedi, and Hemant Brijwasi | Mumbai Warriors: Kailash Kher, Shilpa Rao, and Purva Mantri | Delhi Dhurrandhars: Sajid Khan, Neha Bhasin, and Ankush Bhardwaj | Punjab Lions: Mika Singh, Asees Kaur and Rupali Jagga| UP Dabbangs: Ankit Tiwari, Payal Dev, and Salman Ali
Vote for Bengal Tigers – Voting Missed Call No. 9930000326
Vote for Delhi Jammers – Voting Missed Call No. 9930000323
Vote for Gujarat Rockers – Voting Missed Call No. 9930000325
Vote for Mumbai Warriors – Voting Missed Call No. 9930000327
Vote for Punjab Lions – Voting Missed Call No. 9930000322
Vote for UP Dabbangs – Voting Missed Call No. 9930000324
Your precious Votings will make them a Winner of IPML 2021. Yes, out of 6 teams only one team will take Indian Pro Music League Season 1 Trophy at Home. So, do Voting Fast and support your favorite teams.