This time KBC Game Show is going in a Big way in Season 12. Again Amitabh Bachchan all set to Ask the Questions to the Contestants and you can also Play from your Homes and Win 10 Lakh Rupees everyday. Yes, KBC Play Along Gold and KBC Play Along Regular Contest is started on Sonyliv website. Download the Sonyliv app and get a Chance to win 1 Lakh Rupees by Answering questions appeared on your screen.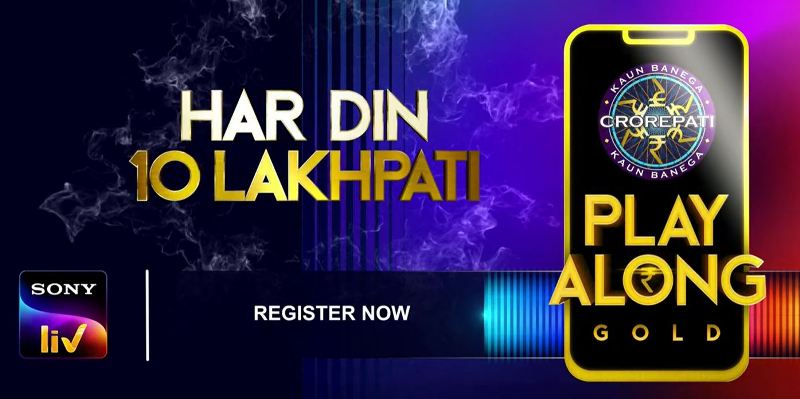 You can Win 1 Lakh Rupees everyday throughout the season. You as an Audience can also play in team and invite your friends and family to the teams. The team score will be the total sum of the Individual players' scores and the top-scoring team will win 1 lakh prize money every day.
Do the Easy Registration on SonyLiv App through your Google or Facebook Account or alternatively you can Create User and Signup on sonyliv.
KBC Play Along 2020 | How to Play KBC 12 Play Along
Download SonyLiv App
Click on the Play Along Window and Select your Language to Hindi or English
You can also Play KBC Play Along with Team
There are two Options ie. KBC Play Along Gold and KBC Play Along Regular
KBC Play Along Gold is for Premium Subscribers and Play Along Gold is for Non subscribers
Everyday 10 Players will be Selected for 10 Lakh Rupees. The Winning Prize will be shared with all the Players if you are Playing in Team.
Not only that, Users have also the chance for referrals. You can refer or invite friends and family to win Additional points and earn a free Subscription to sonyLIV for themselves.
The KBC Play Along Winners get a chance to win a car, television set, mobile phones, and bluetooth speakers amongst various electronics and gift cards. So, from 28th September 2020 onwards, you can Play KBC Play Along 12 everyday on sonyliv app.
The Winners of KBC 12 Play Along 2020 (Gold+Regular) will be Selected based on Certain Rules and Regulations, Terms and Conditions which are mentioned on Sonyliv Play Along Window. Read All the Rules in Hindi and English before Playing KBC Play Along 2020 on Sonyliv app.