Big B Amitabh Bachchan's Sony TV aired Show Kaun Banega Crorepati is one of the most loved game show. This season again in KBC 15 we have seen very talented contestants in Hotseat. Again this week you will see contestant Jasnil Kumar from Uttar Pradesh who is set to Answer 7 Cr Rupees Jackpot Question.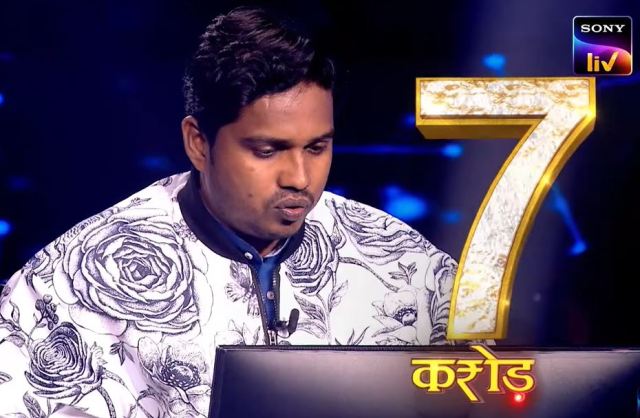 Yes, after Answering 1 Cr rupees question correctly, Jasnil all set to take a Risk and Answers the 7 Cr rupees Jackpot Question. If he Answers correct, he'll take huge amount of 7 Cr rupees home. Promo of Jasnil Kumar has created lots of excitement in viewers to watch full episode.
Apart from this, Big B Amitabh Bachchan gives grand gestures and Gifting his Jacket to contestant Jasnil Kumar. In a Latest Promo, Jasnil tells Big B that he is feeling cold. Big B Asks people on the show's set to get his jacket. He helps Jasnil wear the jacket and says, "Yeh toh ab aapka ho gaya, to which the contestant innocently asks, "Sach Mein, Sir?"
About Jasnil Kumar
After Jaskaran Singh, Jasnil Kumar is the 2nd Crorepati Contestant of Kaun Baega Crorepati 2023 game show. Yes, Jasnil Kumar from UP won 1 Cr Rupees in KBC 15 and now all set to attempt 7 Cr Rupees question. Jasnil Kumar has been trying from past 11 years to be on KBC hotseat. Now, After becoming Crorepati Jasnil's dream is to bulid Pakka House for his family who is living in a mud house.
Jasnil Kumar used to work in Mumbai and travelled a lot in local trains to his workplace everyday. He had never seen the Sea and one day he got a chance to see the Sea. Jasnil revealed, He has seen Bollywood acotrs Salman Khan, Hrithik Roshan, Neha Dhupia, Neil Nitin Mukesh but he couldn't interact with her because of his shy nature. He went back to his Village to study as life in Mumbai became too monotonous for him. He is working as a Food Manager in a retail store.
Jasnil Kumar after Winning 1 Cr Rupees in KBC 15
Jasnil broke down and touched Amitabh Bachchan's feet and also hug him as he couldn't control his emotions and cried a lot. Now, After Winning 1 Cr Rupees, Jasnil will face 7 Cr Rupees Question.
There are lots of Fun loving moments of Jasnil Kumar with Big B Amitabh Bachchan. Also, Jasnil kumar all set to impress you with his knowledge by answering questions right in Kaun Banega Crorepati game show. Don't forget to Watch Jasnil Kumar KBC 15 Episode this Wednesday and Thursday at 9 PM on Sony TV.