Mind Wards Olympiad 2020 Registration Online on Zee5: Mind Wars is a multiplatform knowledge programme which aims to reach 1 crore students from over 40,000 schools across India. This first-of-its-kind initiative offers an open platform for students to benchmark themselves against their peers on a national scale using multi-platform testing platforms across three content segments – Curriculum, General Knowledge, and Current Affairs. Here is How to Register.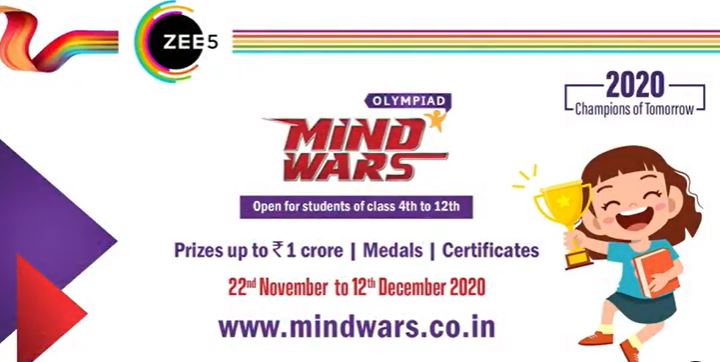 Mind Warriors! Do you think you've got what it takes to be a National Champion? Register today and get a chance to win Cash Reward worth Rs. 1Cr.
Mind Wars, India's largest multi-platform knowledge programme, has created India's biggest GK Olympiad for schools. Each class from 4 to 12 (9 levels in all) will be graded under the Mind wars GK Olympiad on their knowledge across a wide subject range.
The Mind Wars GK Olympiad will consist of relevant and interesting general awareness questions across 5 topics per class, aimed at improving students' ability to crack competitive tests over their scholastic journey.
The Mind Wars GK Olympiad is the first fully online GK Olympiad, brought to you by Team Mind Wars, under the umbrella of Zee Entertainment Enterprises Ltd.
OLYMPIAD DATES
The Mind Wars GK Olympiad 2020 offers 6 dates (22Nov, 28Nov, 29Nov, 5Dec, 6Dec, 12Dec, 2020) on which the Olympiad will be held for all classes. The paper will be different in content but same in terms of difficulty level on all six dates. A student could try and improve their score any number of times by paying for extra attempts.
Why should you register?
General Knowledge is an integral part of most competitive exams, group discussions and interviews. GK cannot be learnt in a day; daily inputs and practice make perfect. Better Knowledge helps in better performance in school, college and across sub-jects. Benchmarking against peers is the most effective way to improve and excel. Test date options for your convenience.
Who all can register?
Students across India of classes 4 through 12 can apply for Mind Wars – Olympiad 2020. Across all education boards
HOW TO PARTICIPATE
The Mind Wars GK Olympiad is open to students across India with the unique facility of 24*7 practice on India's largest quizzing and knowledge platform. The Mind Wars GK Olympiad will be accessible to all students for a nominal fee of Rs. 200/- per student inclusive of practice material and preparatory tests. The Mind wars GK Olympiad will be available as a part of the Mind Wars platform on the Zee 5 app.
PRIZES FOR PARTICIPANTS
More than 1000 prizes to win!
Assured cash prizes of up to ₹1 crore for outstanding performers!
Medals and Merit Certificates for best performers in every school.
National and School Percentile calculated to benchmark performance.
Participation Certificates for every single participant.