Its time for the Last Question 10 of The Big Picture Quiz show registration. The Big Picture 10th Question with Answer listed below. See the 10th Question of The Big Picture Registration dated 26th July 2021. We have mentioned the Question 10, All 4 Options and its right answer as well.
If you have already given all the earlier questions' Answer correctly, Its time for The Big Picture Registration Last Question 10 Answer. You are now just one step closer to Win Crore Rupees prize money. You can be the Lucky Participant of The Big Picture Quiz game show hosted by Ravneer Singh.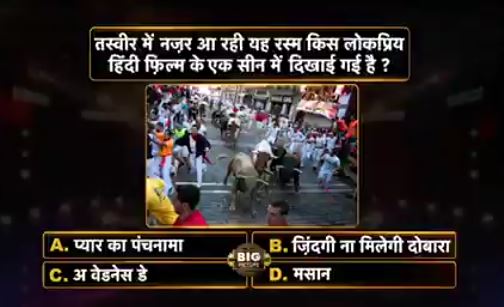 The Big Picture Registration 10th Question: The Ritual in this Picture is a Scene in which Popular Hindi Film?
The Big Picture Question 10 Answer – B. Zindagi Na Milegi Dobara
You can Submit your Answer on Voot App or Myjio App or vootdotcom website. Also you can Submit your Answers using SMS. Send SMS to given number by using short code and your answer as mentioned in a format below.
Send SMS to Number 56161
How to Answer: Type TBP <Space> Answer<A,B,C,D><Space>Age<Space>Gender<M,F,O> and Send it to 56161
Example: If you are 29 Year Old Man and your Answer is Option D, then you have to Answer like TBP D 29 M and Send it to Number 56161
SMS Charge: Rs. 4/Per SMS
The Big Picture 10th Question with Answer of 26 July 2021.