Zee TV is back with their most Popular Singing reality show SaReGaMaPa. Also, SaReGaMaPa 2023 Audition Registration 2023 started on Zee TV. Here is How you can Send your Singing Audition Video to Official Whatsapp Number to be Part of Ground Auditions. SaReGaMaPa 2023 Audition Date, Time, Venue to be revealed very soon.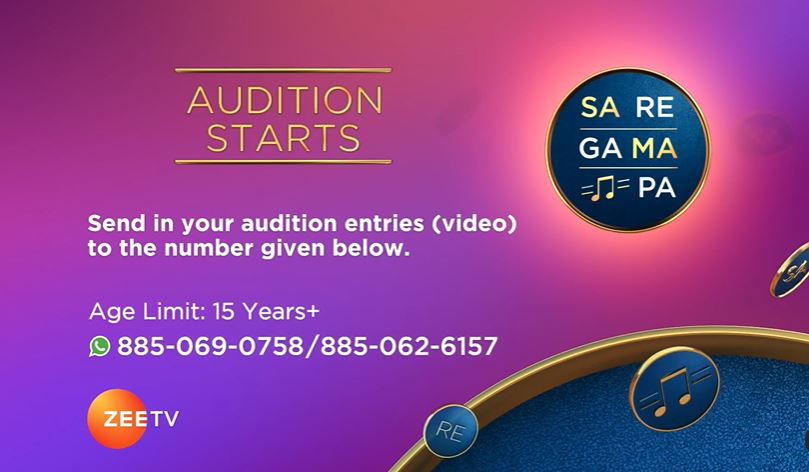 SaReGaMaPa 2023 Ground Auditions likely to happen in cities like Guwahati, Kochi, Bhubaneswar, Goa, Lucknow, Bengaluru, Kolkata, Chandigarh, Delhi, Indore, Jaipur, Nagpur, Mumbai. But before SRGMP Ground Auditions, Its time to Submit Your Singing Audition Video Online on below mentioned Whatsapp Number.
They will look into your Performance and if they like it, You will get a Call from the Team for Next Round of Audition. So, if your age is above 15 years, You are eligible to be part of SaReGaMaPa 2023 Auditions on Zee TV.
Age – Above 15 Years
Whatsapp Number – 885-069-0758 / 885-062-6157
SaReGaMaPa 2023 Judges, Host names to be revealed soon. We'll very Soon disclose the Official Date, Time, Venue for the Ground Auditions, Stay Tuned.