Zee TV is back with their most Popular Singing reality show SaReGaMaPa. Also, SaReGaMaPa 2023 Audition Registration 2023 started on Zee TV. Here is How you can Send your Singing Audition Video to Official Whatsapp Number to be Part of Ground Auditions. SaReGaMaPa 2023 Audition Date, Time, Venue to be revealed very soon.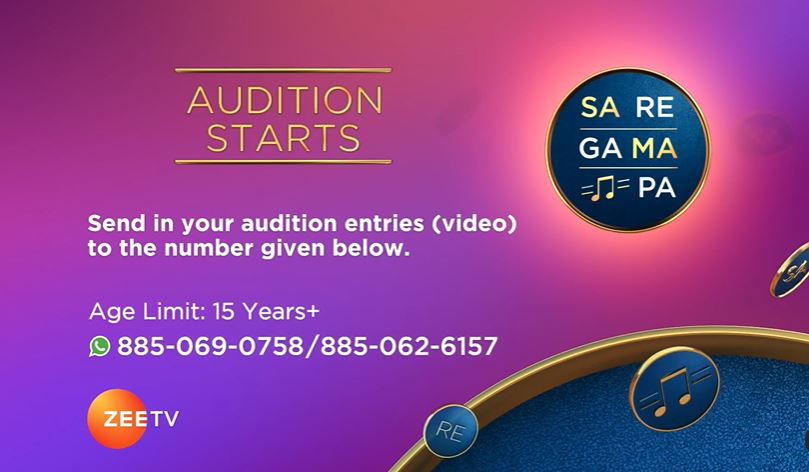 SaReGaMaPa 2023 Ground Auditions likely to happen in cities like Guwahati, Kochi, Bhubaneswar, Goa, Lucknow, Bengaluru, Kolkata, Chandigarh, Delhi, Indore, Jaipur, Nagpur, Mumbai. But before SRGMP Ground Auditions, Its time to Submit Your Singing Audition Video Online on below mentioned Whatsapp Number.
SaReGaMaPa 2023 Audition Date, Time, Venue
They will look into your Performance and if they like it, You will get a Call from the Team for Next Round of Audition. So, if your age is above 15 years, You are eligible to be part of SaReGaMaPa 2023 Auditions on Zee TV.
Guwahati – 5th July 2023
Venue – Godwins School Maruti Service Bus Stop, Jatin Tamuli Patha, Near Axom Motors, National Games Main Stadium NH-37, Opposite Sarusajai, Sarusajai, Guwahati, Assam 781040
Kolkata – 8th July 2023
Venue – NSHM Knowledge Campus, Basanta Lal Saha Rd, Tara Park, Kolkata, West Bengal 700053
Bengluru – 11th July 2023
Venue – The Presidency College 33/2C & 2D, Kempapura Main Rd, Hebbal Kempapura, Bengaluru, Karnataka – 560024
Chandigarh – 20th July 2023
Venue – Indradhanush Auditorium, Sector 5, Panchkula, Chandigarh, Haryana – 134108
Delhi – 22nd July 2023
Venue – Bal Bhavan Public School, G.C. Lagan Marg, Mayur Vihar Phase 2, Pocket B, Delhi – 110091
Vadodara – 25th July 2023
Venue –
Pune – 27th July 2023
Venue –
Mumbai – 29th July 2023
Venue –
Age – Above 15 Years
Whatsapp Number – 885-069-0758 / 885-062-6157
What's Special This Season? : This Time Singers will get a Chance to Sing their Original Song on Zee Music Album.
SaReGaMaPa 2023 Judges, Host names to be revealed soon. We'll very Soon disclose the Official Date, Time, Venue for the Ground Auditions, Stay Tuned.