Salman Khan hosted Most Loved Television Reality Show Bigg Boss is back with Season 12. Yes, Bigg Boss 12 Registration for the Auditions Kick Started. This Time You Can not give the Individual Auditions. You have to Give the Auditions with your Partner only. See How to Apply for the Bigg Boss 12 Auditions on Official Voot website or Voot App.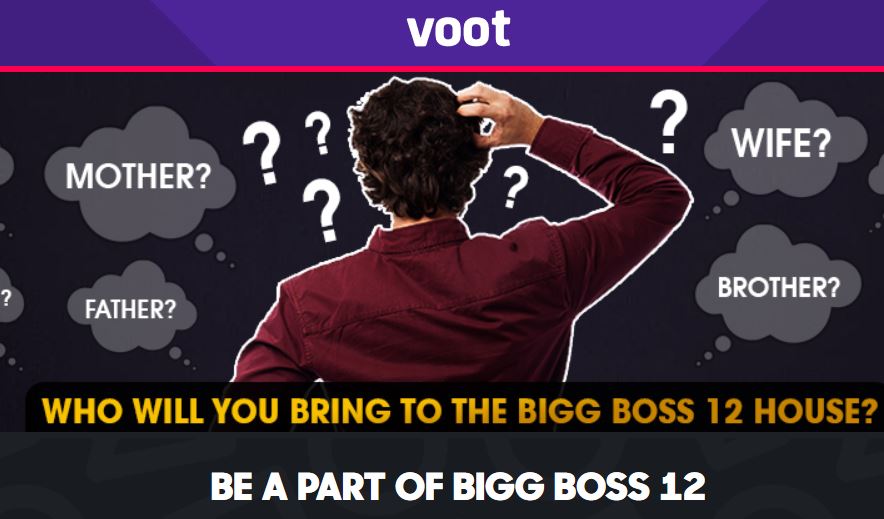 Yes, This in Time Bigg Boss 12 You and your partner can join the BB12 gang! Yes, you read that right. You and your partner. It could be your sister, friend, boss, mother-in-law, etc. So what are you waiting for? Get going. Showcase your talents and intelligence, and earn your way to name, fame and the prize money!
We have mentioned the Bigg Boss 12 Registration Link below. Just fill the Audition Registration form on Official Voot website. Mention the Details of Applicant 1, Applicant 2 and also Other details as well.
Eligibility criteria to participate | Bigg Boss 12 Registration Form
1) an individual person aged 18 (eighteen) years or above as on 15th April, 2018 and;
2) is an Indian national (s) residing in India.
3) registering with his /her partner i.e. 2 individuals shall be required to participate in a group of 2
Bigg Boss 12 Registration Form – https://www.voot.com/biggboss
For details T&C regarding Upload Video, Required Documents and Details needs to be added in Registration Form Check the Terms and Conditions Section of Bigg Boss 12.