Sony TV's Highly Acclaimed Television Singing Reality Show, Indian Idol is back with a Bang. Indian Idol 2018 Auditions Scheduled and Registration from the Same have been Started. Also See the Date, Time and Venue for the Ground Audition of Indian Idol Season 10.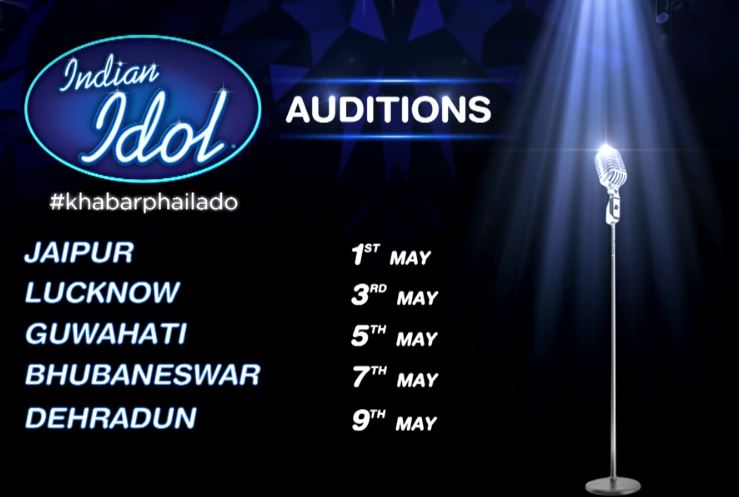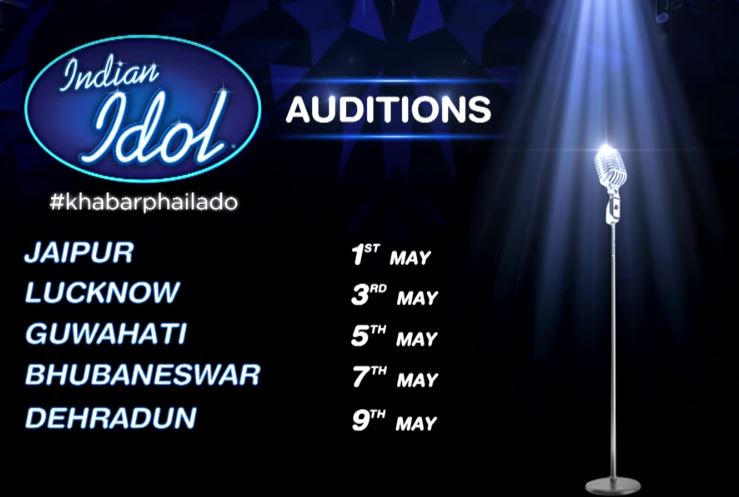 If you are Very Talented Singer and your age is between 15 to 30 Years, then Go and Give a Try for the Singing Talent Hunt Reality Show. See the Indian Idol 2018 Auditions, Registration and detailed Date, Time, Venue Schedule.
ELIGIBILITY FOR ENTRIES AND AUDITIONS:
1. Age for Participation in the Audition:
The Participant(s) must be of or above the age of 15 years but not above the age of 30
years as on April 01, 2018. Such persons coming for the Audition shall hereinafter be
referred to as "the Participant(s)" irrespective of whether such persons have been able
to enter the venue gates and actually participate in the Audition.
2. Documents for Participation in the Audition:
For enabling the Participant to participate in the Auditions, the Participant shall bring a
photocopy and the original of any of the following documents in support of the identity,
age and residence proof, at the audition venue:
• Registration number as received from us during the process of registration.
• Identity Proof – PAN Card/Passport/Aadhar card/Driving License/Voter Identity
Card.
• Age Proof – Passport / Birth certificate / School certificate / Court Affidavit (Any
one Age Proof)
• The photocopy of the original and the original document itself should be clear and
legible.
• Passport size photographs (1)
• Proof of residence – Passport/Ration Card/Driving License/Electricity Bill
Indian Idol 2018 Audition Schedule: Date / Time / Venue
Have a Look at the detailed Timings or Date, Time and Venue for the Ground Auditions of Indian Idol 2018 on Sony TV.
City
Date
Venue
Jaipur
Tuesday

1st May 2018

Apex Institute of Management & Science College

Sector -5, VT Road, Mansarovar, Jaipur, Rajasthan 302020.

Lucknow
Thursday

3rd May 2018

The Millennium School

F Block, South City, Rae Bareli Road, Lucknow, Uttar Pradesh 206010.

Guwahati
Saturday

5th May 2018

NERIM GROUP OF INSTITUTIONS

Padma Nath sarmah Bhawan, Joyanagar, Khanapara, Guwahati, Assam 781023.

Bhubaneshwar
Monday

7th May 2018

Kalinga Institute of Social Sciences

Campus 10, K. I. S.S. Patia, Bhubaneswar, Odisha – 751024.

Dehradun
Wednesday

9th May 2018

Universal Academy

Lane No: C-22, Turner Road Clement Town Dehradun Uttrakhand – 248001.

Chandigarh
Friday

11th May 2018

Gurukul Global School

Gurukul Global School, Adjoining Police Station, Manimajra, Near IT Park, Chandigarh, 160101.

Kolkata
Sunday

13th May 2018

Lake Land Country Club
Off Kona Expressway, Munshidanga Post, Gorfa, Howrah, West Bengal 711403.
Hyderabad
Wednesday

16th May 2018

ICBM –SCHOOL OF BUSINESS EXCELLENCE
Plot No. 2A, "Ishwar"sAbode", Upperpalli"X" Roads, Right to Pillar No. 179,Attapur, Hyderabad –500 048.
Delhi
Saturday

19th May 2018

Thyagaraj Sports Complex
Thyagaraj Sports Complex, Laxmi Bai Nagar, New Delhi – 110023.
Indore
Wednesday

23rd May 2018

Standard Public School
Opp. Bilawali Tank, Khandwa Road, Limbodi Indore – 452017 (M.P.)
Mumbai
Sunday

27th May 2018

ST. ARNOLD'S HIGH SCHOOL & JUNIOR COLLEGE

Mahakali Caves Road, Andheri (E), Mumbai, Maharashtra 400093
Please Read More T&C for the Indian Idol 2018 Show on SET India.
searched: indian idol 2018 audition schedule, indian idol season 10 auditions, indian idol 2018 audition date, time, venue