Holo Kitab is redefining the Education with Augmented Reality. Yes, Now Your Kids can have an Entertaining Learning with Holo Books. Holokitab Technologies Founders Appeared on Shark Tank India Season 2 and their Idea of AR Technology loved by the Sharks on Shark Tank India Season 2. Know the Wide Ranges of Holokitab Books, Customer Review and Prices along with How To Order it online guide.
HoloKitab enables book Publishers and Manufactures from various Industries to deliver Augmented Reality Content to their Users in a Cost Effective Way. Now, Using Holo Kitab your Kids Won't Say NO to Reading Books.
HoloKitab Books – Holokitab Books Plays Vital role in making your Kids Learning Interactive and Engaging by Augmented Reality. Whatever Objects Appeared in a Book can be converted into the 3D with Voice and Movement of it. For an Example, Animal or Birds or any other object Appeared in a Book can be Appeared Live in 3D with the Use of Mobile App.
When you See Book, it looks Like a Normal Book but using their AR Technology on Android and iOS App you can Convert it to the Real 3D World and makes Learning more effective and Entertaining. Just Download the App and Scan any Page of the Book. Watch Video below to Know How HoloKitab Works.
HoloKitab Books Review
Have a Look at HoloKitab Review from the Customers. Those Who have used Holo Kitab for their Kids, Nursery or Kinder Gardern Students appreciated the concept of 3D Augmented Reality as it makes their kids learning more interactive and engaging.
Gagandeep Singh ⭐⭐⭐⭐⭐
Interactive learning!
Interactive and enjoyable way of learning for kids. Definitely worth buy. This concept will motivate kids to pick book and learn.
Aryan Ganotra ⭐⭐⭐⭐⭐
Amazing product
Got this book for my nephew. He is loving AR technology used by Holokitab. Amazing, thank you very much team
Viyanka ⭐⭐⭐⭐⭐
One of the most engaging and fun book
Thanks Holokitab for launching such engaging rhymes book for kids. Just love it!!! 😍😍😍. A must-have book for your children.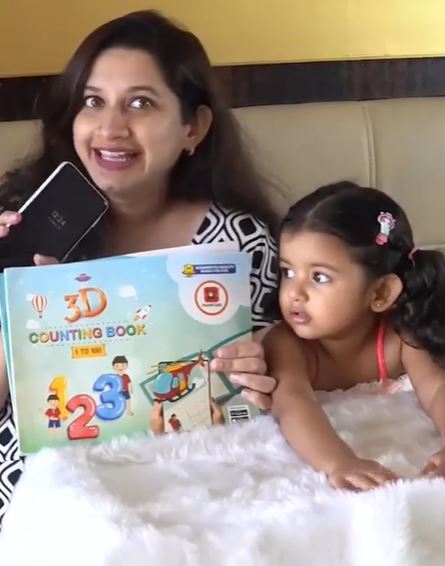 puneet verma ⭐⭐⭐⭐⭐
Great Innovation
First time saw something like this. Good entertaining experience and learning. A must by rhymes book for children and parents
Kshitij ⭐⭐⭐⭐⭐
This is a book beyond Expectations
Its 3D, real 3D. My niece enjoyed it. 5 stars for this book.
Priyanka ⭐⭐⭐⭐⭐
Fun Learning, my kid gives a heart
Great Book for kids to learn from 3D images. Makes it so easy, simple and engaging for kids to make learning more fun. Especially great for kids who are beginners. Five stars for this awesome product.
Sujay Kulkarni ⭐⭐⭐⭐⭐
Good product for children
Good book for kids to learn alphabet
Ashish narang ⭐⭐⭐⭐⭐
Interactive and Informative!
Superlative product. I gifted this to my niece and she really liked it. Visuals make it more interactive and informative. Great work. Kudos!
There are Wide Range of Books Available by Holokitab in Augmented Reality (AR) Technology. See the Books by Holokitab available to buy.

AR Alphabet Book
AR Counting Book
AR Hindi Akshar Book
AR Nursery Rhymes Book
AR Professionas Flashcards
AR Farm Animals Flash Cards
AR Vegetable Flashcards
AR Fruits Flashcards
Check Out Books >> Holokitab (Amazon Link)
So, You can Buy these Amazing Books at Very Affordable Price on Amazon Online Store and Let make your Kids Learning more Interesting and Engaging. You can Also Gift the Same Products to your Relative as HoloKitab is very Affordable Starting from Rs 280.
HoloKitab Technologies are also into Services business for Book Publishers, Toy Manufactures, Schools, Real Estate and more and helps them to bring Augmented Reality to their Business or Products.