Kaun Banega Crorepati 2022 game show Registration for Juniors has already been started on 10th October 2022 and it will got till 17 October 2022. Here we have listed the KBC Juniors 2022 Registration Questions with its correct Answers. KBC Registration and Question Answer Window is available on SonyLiv App. Download/Update Sonyliv App if you feel your child is bright enough for KBC game show.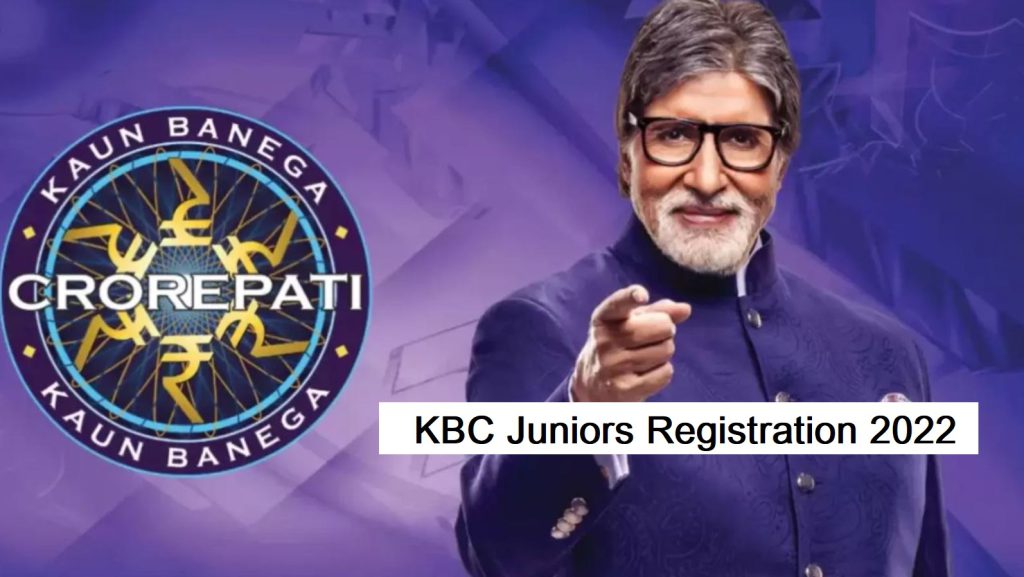 KBC Registration for Junior Kids or Children is very quick and easy. You just have to Answer the Simple Questions Asked by Amitabh Bachchan on TV Screen on each day from 10th October to 17 October. The Who gives the correct answer maximum can get opportunity to be part of the Kaun Banega Crorepati game show. Those who are given correct Answer will be shortlisted for the next round. The KBC Team will contact you in 15 days.
The Short Listed Candidates might go under the final audition round and those who gets selected in a next round can get opportunity to be part of KBC and can play Fastest Finger First with Amitabh Bachchan. Here are the KBC Juniors Registration 2022 Question and Answer.
How to Answer | Where to Answer KBC Juniors 2022 Registration Questions:
SonyLiv is the only official Application available for both Android and iOS Smartphone devices where you can submit your Answers very quick and easily. Just Download or Update the SonyLiv App and you are good to go.
Download/Update SonyLiv App in your Mobile
Logon to SonyLiv App using Social media account or signup for free sonyliv account
Click on the KBC Juniors Registration Banner of Front Page
Select Language Hindi or English
Read the Terms and Conditions Section and Tick all the 3 Check boxes to Proceed.
Now you will Find 'Click to Register Button' Hit to Proceed
Enter your Mobile Number (They will get in touch on this contact no)
Select your Gender: Male, Female, Other
Select your Age Ground as on 11th October 2022 (8 to 11 Years or 12 to 15 Years)
Select your City Where you Live
You will see the Question 1 of 10th October 2022
Answer it As mentioned below and Proceed.
Here is the List of KBC Juniors Registration Questions of Each Day from 10th October 2022 to 17 October 2022. Answer it online on Sonyliv. We have also mentioned the Answers below on each day.
Date
Question
Answer
Question 1: 10th October 2022
Which of these Superheroes is green in colour?
A. Aquaman
B. Wonder Woman
C. Incredible Hulk
D. Black Window
C. Incredible Hulk
Question 2: 11th October 2022
Usually, from which of these does lava come from?
A. Whirlpool
B. Maelstrom
C. Cyclone
D. Volcano
D. Volcano
Question 3: 12th October 2022
Other than hydrogen, which element makes up the chemical composition of water?
A. Oxygen
B. Nitrogen
C. Carbon
D. Copper
A. Oxygen
Question 4: 13th October 2022
Which of these is not usually found inside a geometry box?
A. Compass
B. Protractor
C. Divider
D. Duster
D. Duster
Question 5: 14th October 2022
Which of these words is a noun?
A. Intelligent
B. Friend
C. Beautiful
D. Cunning
B. Friend
Question 6: 15th October 2022
Which of these is not one of the popular monkiers by which Mohandas Karamchand Gandhi is Known?
A. Bapu
B. Mahatma
C. Father of the Nation
D. Iron Man of India
D. Iron Man of India
Question 7: 16th October 2022
इनमें से क्‍या पूर्वोत्‍तर भारत में एक प्रमुख नदी है ?
C. ब्रहमपुत्र
Question 8: 17th October 2022
KBC Juniors Registration Question Answer List
Note – Answer Each Question within 24 Hours from 9pm to 8:59PM next day.
KBC Juniors 2022 Registration are Open for a Week, Quickly register for your Kids or Children to be part of the Amitabh Bachchan's game show Kaun Banega Crorepati 2022.