MTV India is back with one more Interesting Show Titled 'MTV Dropout PVT. LTD'. It's the Show for Passionate Entrepreneur who Living their dream and Passion. Here is how you can Register for MTV Dropout Pvt. Ltd. Auditions and be Part of the Reality Show. Fill the Registration Form Online to take Part of te Audition. Also, have a look at the FAQ to Take Participation into the Show. Don't Forget to Check the MTV Dropout Pvt. Ltd. Auditions Schedule 2017 below. Date, Time and Venue revealed for the Same.
MTV Dropout Pvt. Ltd. Audition Registration Kick Started Online. Fill and Submit the Simple form to be Part of the Brand new Reality Show on MTV India.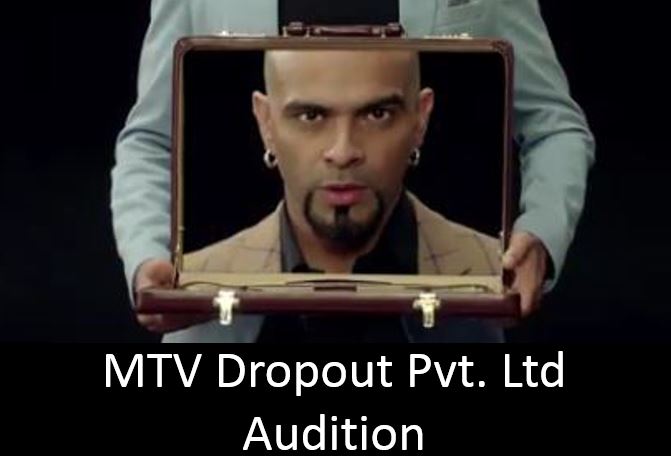 'Dropout Pvt Ltd.' is a reality show to provide a platform for young entrepreneurs to showcase their ideas for starting new businesses or enable young entrepreneurs with the right attitude develop new ideas ("Startup Ideas") where a select panel of visionary entrepreneurs, investors and other panel members will select the participants for the Program from the audition rounds and help them fine tune the Startup Ideas and guide them on how to develop such ideas into a possible workable business. This process may include various tasks including but not limited to presentations, live site trainings, workshops and challenges. The final objective of the Program would be to find 1 (one) best Startup Idea basis the format of the Program. Only those Applicants who are serious business entrepreneurs and committed to the Startup Idea and the format of the Program are advised to apply.
MTV Dropout Pvt. Ltd Audition Registration (See How to Register)
Log in to  http://www.mtvindia.com/dropout/ and Fill in the Registration form if you meets the Eligibility Criteria Mentioned below. Fill in the Name, Sex, Date of Birth, Address, Phone, email and More Details of the Registration Form.
1.    Eligibility Criteria:
Please be advised that in order to participate in the Program following basic eligibility requirements are required to be fulfilled (which may be changed at any time by Organizer in its sole discretion):
i)    Above 18 years of age;
ii)    Residents and citizen of the India;
iii)    Only individuals/ persons in their individual capacity are eligible to apply and a company incorporated under the Companies Act 2013 (i.e. a one-person company/ private limited company and/ or public limited company) are not eligible to apply for this Program.
iv)    Individuals with new original Startup Ideas absolutely owned and controlled by such individuals should apply and existing start-ups are not eligible to apply.
v)    Individuals with fresh/ new and original Startup Ideas are eligible to apply and such Startup Ideas should be original and absolutely owned by such Applicant.
vi)    Team of collaborators/ Startup Idea are not eligible for participation and only independent individuals are eligible.
Dropout doesn't mean Failure. Dropout is one who makes his Success Path Own. Being an Entrepreneur you don't Need Degree but you Need Sharp and Focused Mind. So if your Dreamed of Being an Entrepreneur then Log on the Official Site and Register to be Part of the Reality Show.
Important to Record Video– Tell about yourself, why you deserve to be on the show, and pitch us your best ideas with a quick video at video.dropouts@gmail.com (for video files exceeding 5 MB, please send via Google Drive or as YouTube link).
Note – Look at the Terms and Conditions Before Applying for the MTV Dropout Pvt. Ltd Reality Show on MTV India.
MTV Dropout FAQ (Must Read before Applying!)
Have a Look at the Most Frequently Asked Question before Applying for the Show (Know if you Are Eligible)
Who is a Dropout? – Dropouts, for us, are not only those who have not completed their education, but also those who have opted out of the traditional system of education or career (college/job/family business) and are working on or have worked on their own idea. We're looking for those who have the courage to take the path less travelled and challenge the norm.
I dropped out of school/college. I couldn't pass my exams. Am I eligible for this show? – Of course you are! You may not be cut out for the traditional parameters that judge someone's potential, but we at MTV believe in you. Impress us with your idea and your personality and we'll provide you all the means that you'll need to make your dream a reality and most importantly a successful entrepreneur.
I have a family business. I have ideas to expand it to new directions. Am I eligible for your show? – We're afraid you do not fall under our definition of a Dropout. We're looking for someone who has started their own enterprise from scratch. We wish you all the success in your family business. If you ever think of exploring newer horizons and establishing your own startup and intend to be a successful entrepreneur of a completely new company, come meet us!
I did not drop out of college. In fact, I scored pretty well and had a good job. But I quit my job to start my own business. Can I audition for Dropout Pvt. Ltd? – Yes, you definitely can! Like we said, a dropout, for us, is anyone who rejected the regular system and started working on his/her own idea. We're looking for you!
I don't have a startup, but I think I have good ideas that could work. Can I come and audition? – Everyone has "ideas". If you yourself haven't had the faith in it to do something about it, it is difficult for anyone else to believe in it. It takes a lot more than just ideas to become a successful entrepreneur. You can learn about them by watching Dropout Pvt. Ltd.
Roadies Fame brothers Raghu Ram and Rajiv Laxman are back to Host the Show. They are not only the Host but they are Producers as well. They all set to Boost confidence of the young Entrepreneur out there.
MTV Dropout 2017 Auditions Schedule (Date-Time-Venue):
Here is the Detailed Schedule of MTV Dropout PVT LTD Auditions Date, Time, Venue. See How you Can be Part of Audition at the Specified Locations.
Mumbai Audition
Date – 3rd May 2017
Venue – Billabong High International School
Bhoomi Park, Nr. Bafira Nagar & Fire Brigade, Marve Rd, New Collector Compound, Malvani, Malad West, Mumbai, Maharashtra 400095.
Delhi Audition
Date – 6th May 2017
Venue – GD Goenka University
G D Goenka Education City, Sohna Gurgaon Road, Sohna,
Gurgaon, Haryana 122103.
https://www.youtube.com/watch?v=Sc_ADX81JW8
Fill in the Online Registration form to Apply and to be Part of the MTV Dropout Audition. Keep Following Official MTV India Site to get Regular Updates. Also Have a Look at the Latest Updated Schedule on MTV Dropout Pvt. Ltd. Auditions 2017.