Star Maa Television Channel has announced the Super Singer Telugu 2019 Singing Reality Show Audition Registration. Here is How you can register for the Audition on Official Website. It's Time to Relive your Dreams with Super Singer Telugu Talent Hunt reality show.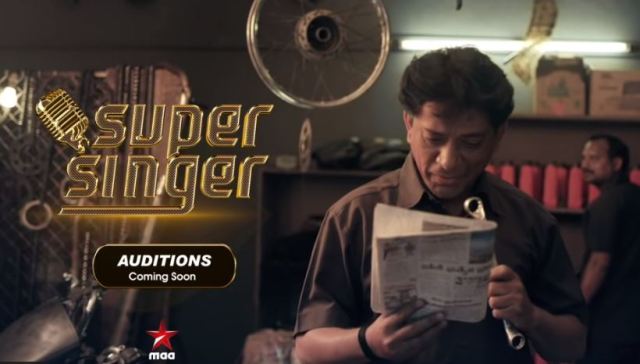 If you have been very Passionate at Singing and to be on Telugu Singing reality show have been your dream, Just Register your Entry for Super Singer Telugu 2019 Audition.
Fill the Simple Registration Form online at the mentioned Official Website URL supersingertelugu.startv.com and Apply for the Super Singer Telugu Ground Audition. You can Upload your Singing Performance Video during the Registration Process.
"Audition Period" in respect of Level 2 shall mean the period stipulated and /or updated by the Company at its discretion on the Website from time to time required to be checked by the Participant(s) from time to time and/or communicated to the Participant(s) shortlisted at Level 1. And for the Participants interested in participating in the on ground auditions at Level 2 shall be as follows, which may change from time to time and the Participant is required to keep updated by checking the website or such other modes of announcement made by the Company as deemed fit, from time to time:
Super Singer Telugu Auditions – Date, Time, Venue Details
Follow the Star Maa TV's Super Singer Telugu Audition Date, Time and Venue details
10th Feb, 2019 at Vizag – Royal Fort Hotel, Opp.G.V.M.C, Asilmetta Jn, Vizag
11th Feb, 2019 at Vijayawada – Executive Club,Near Polytechnic College, ITI Road, Vijayawada
12th Feb, 2019 at Nellore – Hotel Yash Park,Sodhan Nagar,Beside RTC(Madras Bus Stand), Nellore
14th Feb , 2019 at Kurnool – Meridian Function Palace, Opp.Medical College, Budhwarpeta, Kurnool
15th Feb, 2019 at Hyderabad –Sarathi Studio Ameerpet, Hyderabad
Audition Timings: 9.00am to 3.00pm
Registration Website – https://supersingertelugu.startv.com
Duration of the Audition Video: The maximum duration of the video shall be 3 (three) minutes and not more than 50 mb in size. Any video more than 3(three) minutes or 50 mb in size will be rejected
All the best to All the Super Singer Telugu Aspirants. Give your best and Rock the Singing show with your talent.