India's Greatest and the Most Grandest Food Carnival is back. Yes, we are talking about Zomato's Zomaland 2022. After 2 Years hiatus, Zomaland is back. This will be our grandest Season with the carnival setting up its Tents in 7 Cities, Here is How to Book Tickets for each city. Book your Tickets for Pune, Mumbai, Ahmedabad, New Delhi, Hyderabad, Bengaluru, Kolkata cities.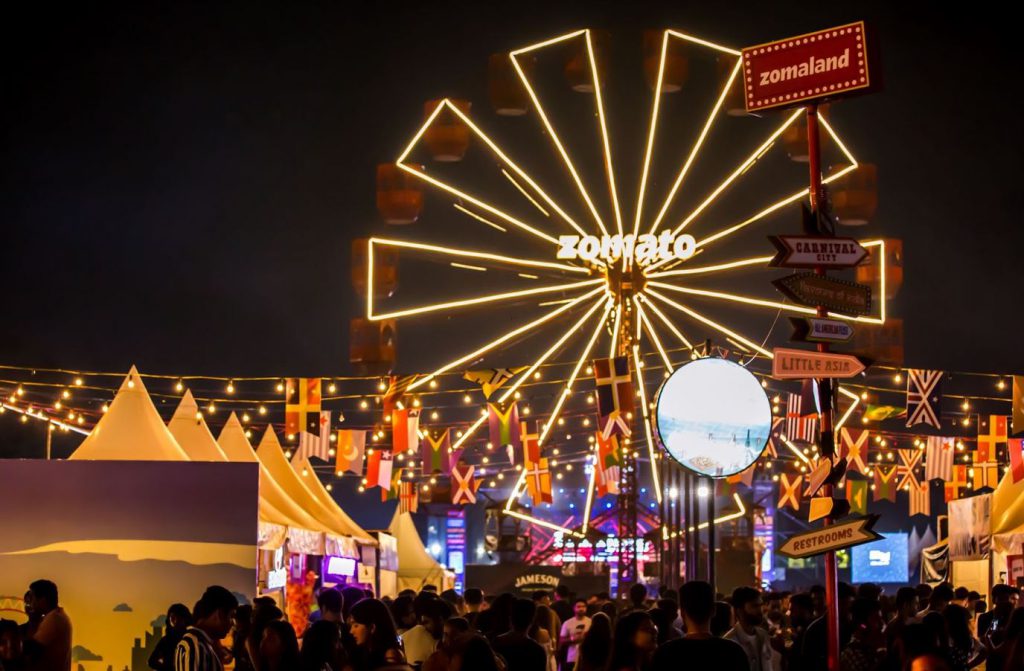 Zomato's Zomaland hosting the best of dining and entertainment in Pune, Mumbai, Ahmedabad, New Delhi, Bengaluru, Hyderabad and Kolkata. Zomato CEO Deepinder Goyal revealed in his tweet. "After a long COVID hiatus, Zomaland is back! This will be our grandest season, with the carnival setting up its tents in 7 cities, hosting the best of dining and entertainment."
"This season, we are pushing the envelope and taking our customers on a larger-than-life journey with 400 restaurants, 140 hours of entertainment with an array of artists ranging from pop, punjabi, indie to comedy, a brand-new dining experience, some record-breaking attempts, and a lot of food!" Zomato confirmed!
Zomaland 2022 Cities Schedule | Time Table
Here we have mentioned the detailed Dates for each cities for Zomato's Zomaland Carnival. Grab your tickets for zomaland 2022 and enjoy day with your family.
Pune – 5th and 6th November 2022
Mumbai – 12th and 13th November 2022
Ahmedabad – 26th and 27th November 2022
New Delhi – 17th and 18th December 2022
Hyderabad – 21st and 22nd January 2023
Bengaluru – 4th and 5th February 2023
Kolkata – 25th and 26th February 2023
Its been confirmed by Zomato official that this time around 400 restaurants are expected to participate in this season of Zomaland 2022. There are Performancers, Fun Activities and Fun games are arranged as an entertainment purposes to customers. Zomaland Carnival will take place for 2 days in each cities as mentioned.
"In our previous season, circa 2019, Zomaland successfully hosted ~1,50,000 visitors, 300+ restaurants, served 3.7L+ dishes, along with stellar performances by stars like Badshah, Harrdy Sandhu, DIVINE, Ritviz, Tanmay Bhat, Kanan Gill, Abish Mathew, Rahul Subramanian and many more. Here's an after movie of the incredible Zomaland by Zomato, Season 2.", Zomato revealed!
Zomaland Tickets Booking and Pricing
Early Birds Tickets are available on Zomato App at 499 Rupees for each day of the Carnival. Also you can Book your Tickets via Paytm.
Each Ticket you Purchased is Vaild for that day only. Means, If you have purchased 5th November Ticket of Zomalnd Carnival in Pune than you can not use Same ticket for 6th November carnival in Pune. For that you have to Purchase another ticket of 499 rupees.
What's Available to Access in 499 Rs Ticket?: Rs 499 Ticket is available for General ticket which covers Entry Charge of Event and access to Common Areas.
Zomaland VIP Tickets: Early Bird VIP Tickets are priced at 999 Rupees, VIP Ticket holder can get separate entry and Access to VIP Bar and dedicated Space closer to Stage.
Free Entry for Children – Yes, Children below 6 years of age will have free entry with adult who is having valid ticket.
So, Get your Early Bird Tickets, VIP Tickets for 499 Rupees and 999 Rupees respectively for Zomato's Zomaland 2022 Carnival and make your day special with fun games, activities and much more entertaining.