Neuphony is the Smartwatch for your Brain. You can Track your Stress, Focus, Attentions and even Mood. Neuphony – A Wearable Wireless EEG Headband will unlock the True Potential of your Brain through their Technology. It helps to Train your Brain using Scientific Meditations. You can Book a Session to get an experience before Purchase or Buy it directly. Neuphony Founders came to Shark Tank India Season 2 to get Funding from the sharks. Here we brings to you Neuphony Headband Review from the Customers, How to Book a Session to experience the Product and more.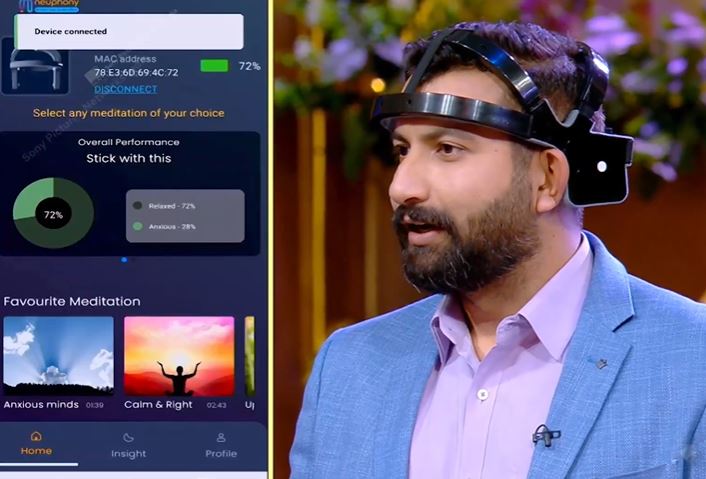 Neuphony – Mental Health Monitor Wearable EEG Headband | Wireless Available at Price Range of Rs 44,000 to Rs 49,000 from their Official website and Amazon Store. The Device has 8 Sensors distributed in the brain's parietal, frontal & temporal lobes and these Polymer Sensors are conducive in nature.
Cognitive States To Measure:
Stress Vs Calm
Mood Analysis
External Focus Vs Distractions
PDR (Posterior Dominant Rhythm)
Neuphony Headband Review –
Customers Who have used Neuphony Headband writing their Review on Amazon.
Amazon Customer ⭐⭐⭐⭐⭐
Great Neurofeedback headband for mental health with amazing insights about my brain
Good product for meditation and mental health with amazing insights about my brain. Highly recommended. The smartwatch for the Brain.
Meera ⭐⭐⭐⭐⭐
Game-changing for Meditation!
I use this device for meditation everyday, and it has upgraded my experience.
The audiovisual feedback motivates you to meditate everyday.
It really balances my mind, especially on bad days.
The app gives you access to goal oriented tracks and guided meditation.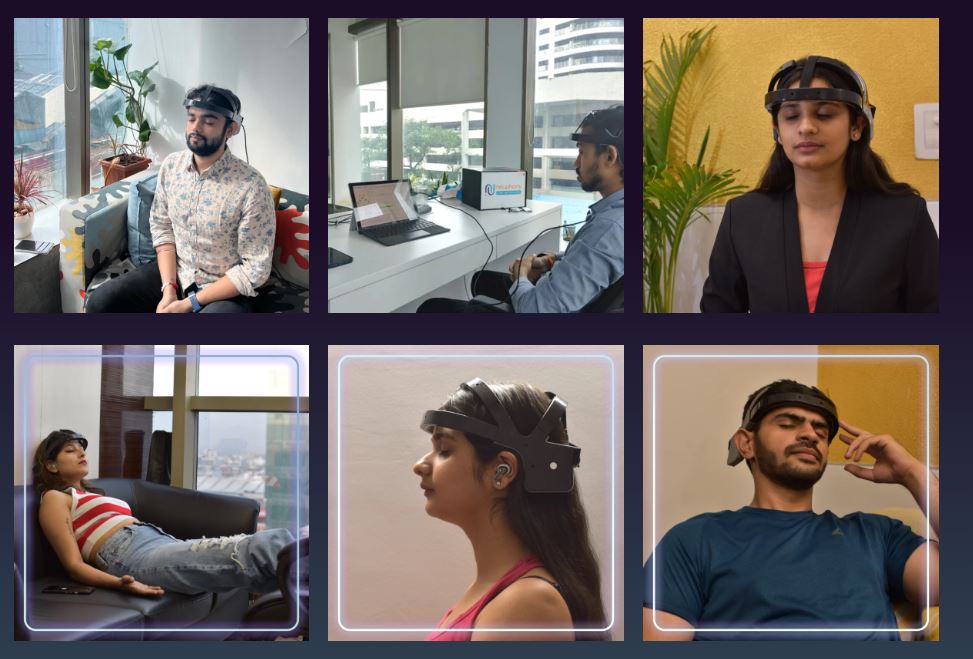 I asked a few of my colleagues, friends and family to use it, and they all had positive experiences too!
If you are a meditator or you work in the mental health industry, this is a revolutionary product for you. I think it can also be an excellent gift for people who suffer from anxiety(to help them tackle it), those with high stress professions, creative individuals and burnt-out parents! You will not regret this purchase. It will upgrade your me-time.
If you are Someone who overthinks a lot, gets anxious and goes through continuous Stress, Neuphony will help you to overcome all these challenges and to make a better version of yourself. Neuphony is India's First Wearable EEG Headband.
Neuphony Pod Session –
You can go through their official website and Know the Various Affordable Packages for Pod Session, Book the One and Experience the Neuphony Headband Product at your selected locations. They have 3 Packages for Session. 1 for Beginner, 1 for Bio-Hacker and 1 for Master Brainiac. You can Check What's Included in a below mentioned package on their website.
Beginner Session – Rs 400 Per Session
Bio-Hacker Session – Rs. 1299 (4 Sessions in 4 Week)
Master Brainiac – Rs 2799 (8 Sessions in 8 week)
Neuphony Founders Bhavya Madan and Ria Rustagi Asks for a Funding on Shark Tank India Season 2 and they gets 2 Big Offers from the Sharks in 2 Pair.
Namita and Anupam's Offer – 1 Crore for 6.67% Equity
Peyush and Aman's Offer – 1 Crore for 5.4% Equity
Don't Forget to watch Neuphony Pitch on Shark Tank India Season 2 Episode on Sony TV. If you have used Neuphony Headband or Experienced it through their Session, Let us know your review in Comments Section.