Tipayi is India's First Wooden Balance Bike for Growing Kids. Custom-built from premium and child-friendly materials. The design focus is on correct riding posture, ergonomics and ease-of-use. Tipayi Founder Prem Kale Asks for a Funding on Sony TV's Shark Tank India Season 2 reality show. 22 Year Old Pune Boy Prem Kale Quits School to follow his Passion of building a Wooden Bicycle and now he is on Shark Tank India 2.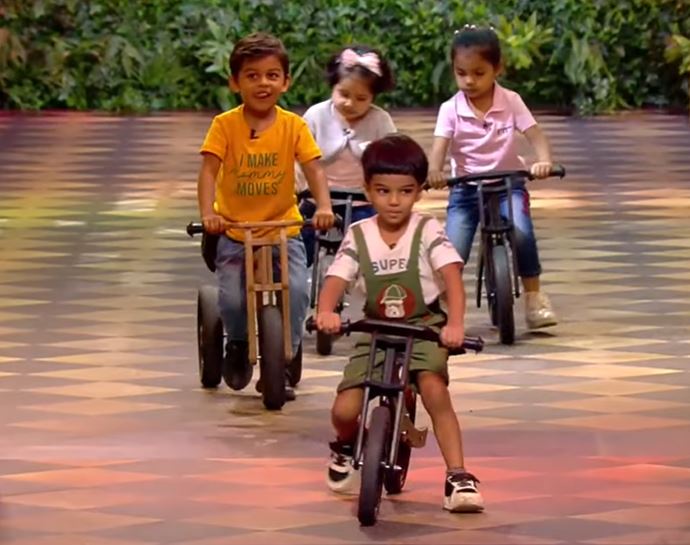 Tipayi Bike allows different stages on the same bike means You can Change and Adjust the Dimensions of Bike while your Child is Growing. Its Perfect for 1 Year Baby for using it as Walker Assist to Five year Old on it. In Short, Tipayi Grows as your Child Grows. Know the Stages of Tipayi Bike below.
Stage 1 – Tribike (12 Months – 2.5 Years)
Stage 2 – Low Rider Balance – Bike (2.5 – 3.5 Years)
Stage 3 – High Rider Balance Bike (3.5 -5 Years)
Tipayi is made out of Child Friendly Premium material. Posture while riding, Comfort and Easy Usability are the key focus. Unlike Your normal toddler Bike, Tipayi Grows as your Child Grows. Tipayi is available in 2 Models 3 Wheels and 2 Wheels. Tipayi 3 Wheels can be further modified in 2 wheels as your child learn balancing.
How to Assemble Tipayi Bike – Here is the Step by Step Video How you can Adjust your Tipayi Bike at Home.
So, Tipayi Bike will help your Child from Walker Support to Balance and make them an Advance rider who will soon be ready to start pedaling. Tipayi Bike is available in Raw Ranger, Hot Pink, Neon Blue and Wow Panda Option. Tipayi Bike is available in Rs 4,999 and you can Order it online from their official Website.
Tipayi Balance Bike As seen on Shark Tank
Bike Type – Balance Bike
Age Range – Toddler
Brand – Vamshycle
Colour – Blue, Pink, Multi Color, Clear
Frame Material – Wood
Included Components: Tiapyi Set; Department Name: Unisex-Baby
Tipayi Bike is a Premium Quality Components, Fun to Ride, Lightweight, Zero Maintenance, Easy to Assemble and 100% Made in India
Tipayi Bike Review from Customers
Those Who have Bought and Used Tipayi Bike for their Kids, Shared their Review Using it.
MPP AdventureNX
Excellent product and very well thought design
Excellent product. My 1.8yr old kid just loves to ride it. Amazingly simple but effective design. Very well thought. I searched all international brands too but nothing is close to this.
Purab
Simply the best
One of the best balancing cycle for my 3 year kid …Very light weight , no sharp edges n easy to assemble
Thanks a lot for this amazing wooden concept
Vignesh
Best starter bicycle
My daughter absolutely adores it, it's fun, stable. Just needs a little tweaking every now and then.
Rajan R.
Superb balance cycle
Good cycle, a very nice concept of making a wooden cycle. Good quality and sturdy design. Easy to assemble, highly recommended for age group 2 years plus.
And their are Much more Positive Reviews about the Product.
Tipayi Bike Price – Rs 4,999 (Amazon | Official Store)
Order Now Here >> Tipayi Bike (Amazon Link)
So, You can Order Tipayi Bike Online and Help Your Kids to Balance and Learn Cycling very Fast. Also Share your Experience, Review or Views about the Product Tipayi Bike for Kids as Appeared on Shark Tank India Season 2. Don't Forget to watch Tipayi Bike Pitch Episode of Shark Tank India Season 2 on Sony TV. You can watch it on sonyliv anytime.