Dance India Dance for talented mothers is back with a new season 3. Yes, DID Super Moms 3 Audition Registration have been started by Zee TV. Here is the Date, Time, Venue for DID Super Moms 2022 Zee tv show. If you are a mother and a very talented dancer, its your time to shine on DID Super Moms 3. Send your Audition Video Entry to the Whatsapp Number mentioned below.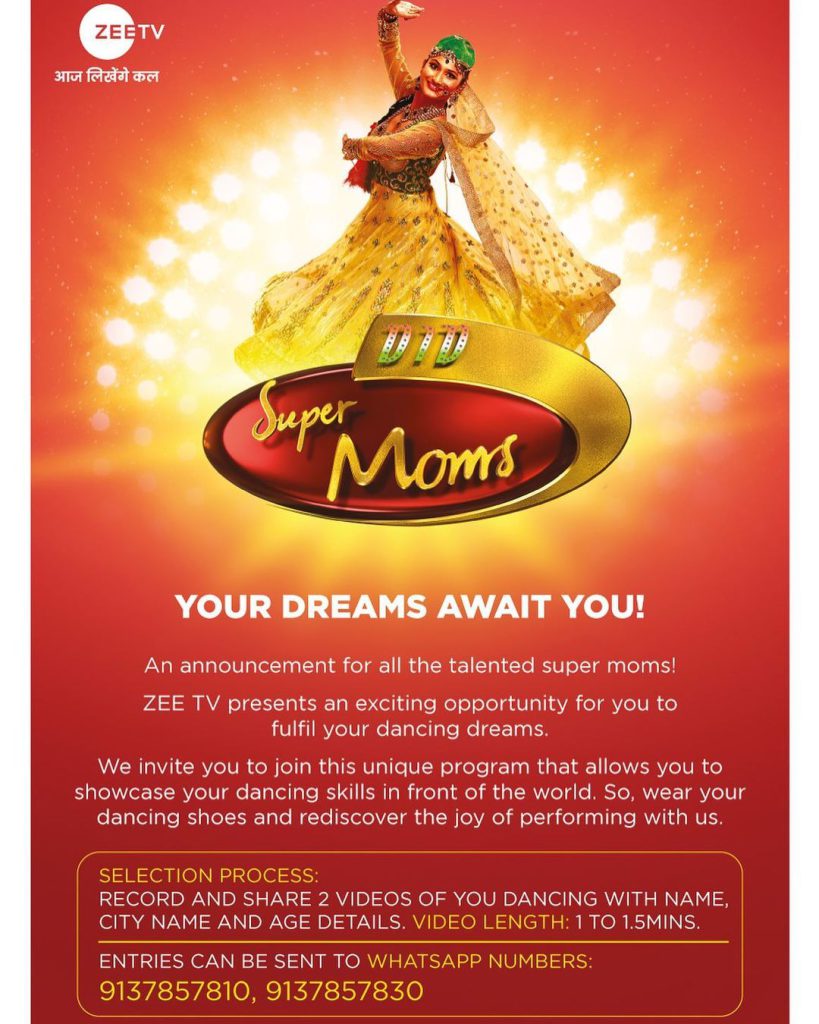 DID Super Moms 3 is open for all the mothers who are very passionate at dancing and wants to relive their dream as a dancer on india's biggest dance reality show dance india dance. DID Supermoms 3 have been officially announced, Here is How you can Submit your Video Entry on Whatsapp.
DID Super Moms Audition | Date, Time, Venue
Here is the Schedule for DID Super Moms 2022 Audition. Go to your nearest city to give the ground auditions of DID Super Moms 2022.
Venue of Each Cities mentioned below. Keep watching this space for your nearest cities auditions of DID Super Moms.
City: Guwahati
Date – 4th May 2022
Venue – Pragjyoti Convention Centre, MG road, Machkhowa, Guwahati – 781001
City: Kolkata
Date – 7th May 2022
Venue – NSHM Knowledge Campus, B L Saha Road, Tara Park, Behala, Kolkata – 700053
City: Lucknow
Date – 10th May 2022
Venue – The Millennium Public School, F Block, South City, Rae Bareli Road, Lucknow – 206010
City – Chandigarh
Date – 12th May 2022
Venue – Delhi World Public School, Old Ambala Road, Sanauli-Dhakoli, Zirakpur, Chandigarh – 140603
City – Delhi
Date – 14th May 2022
Venue – Delhi International School, Sector 23 Dwarka, New Delhi – 110077
City – Bhopal
Date – 17th May
Venue – Kopal Higher Secondary School, Nehru Nagar, Kotra, Sultanabad, Bhopal – 462003
City – Ahmedabad
Date – 19th May
Venue – Terf English Medium School, Near Torrent Power AEC, Zonal Office, Opposite Swami Narayan Museum, Naranpura, Ahmedabad – 380013
City – Mumbai
Date – 21st May 2022
Venue – IES New English School, Government Colony, Near Kherwadi Police Station, Bandra (East), Mumbai.
Selection Process: Record and Share 2 Videos of you Dancing with Name, City Name and Age details.
Video Length: 1 to 1.5 minutes
Send your Video Entry to Whatsapp Number mentioned in a Image above.
All the Best to All the talented dancer mothers, who are going to be part of DID Super Moms Zee TV Show.